Na een hele lange pauze, pak ik het bloggen weer op.
After a long pause, I will be blogging again.
Op dit moment ben ik ziek thuis. Twee weken geleden ben ik geopereerd, mijn galblaas is verwijderd. Genoeg tijd om te knutselen zou je denken. Helaas is het met mijn energie of conditie, niet zo best gesteld. Dat zal ik weer moeten opbouwen.
Right now I'm sick at home. Two weeks ago I had surgery, my gallbladder is removed. Enough time to craft, you might think. Unfortunately my energy or condition is not optimal. I will have to rebuild.
Voor de ideeën volg ik een online-cursus van Scrapdelight. Afgelopen donderdag de eerste bestanden, tips en een filmpje ontvangen. Allemaal heel erg goed verzorgd.
For ideas, I follow an online course by Scrapdelight. Last Thursday we received the first files, tips and a video. All very well cared for.
Omdat ik vorig jaar al een album gemaakt had, wil ik deze weer gaan gebruiken. Even bekijken hoe ik de vier op een nette manier kan vervangen voor de vijf. Dan kunnen we aan de slag.
Since I had made an album last year, I want to use it again. I just must replace the four in a decent way for the five. Then I can get started.
Ik heb alle spullen van vorig jaar opgezocht, want die wil ik dit jaar zeker gaan gebruiken.
I looked up all the stuff from last year, because I definitely want to use it this year.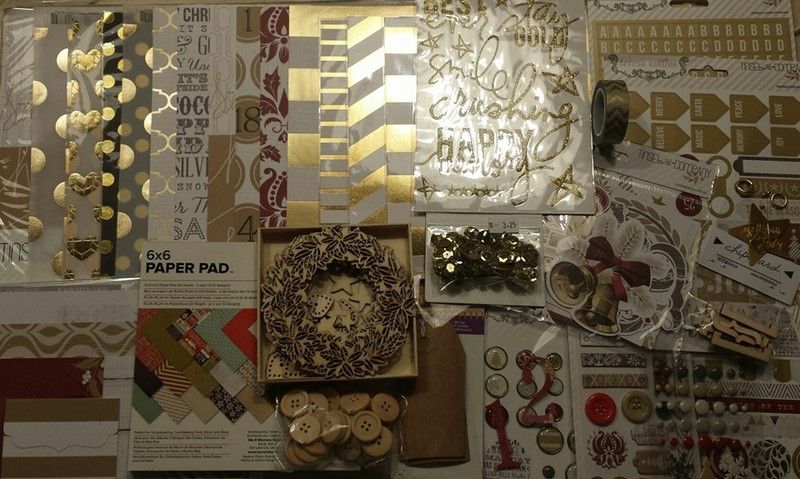 Vorig jaar had ik allerlei spullen van Teresa Collins gekocht, ik viel voor het vele goud en de clean and simple uitstraling van de papieren.
Last year I bought all kinds of stuff from Teresa Collins, I fell for all the gold and the clean and simple look of the paper.
Ik heb er pas nog een PL set van Simple Stories bij gekocht en natuurlijk de Kit van Scrapdelight. Die heb ik helaas nog niet binnen, maar hier alvast een foto van de rest van de spullen die ik erbij gezocht heb.
I have bought a set of PL Simple Stories and of course the Kit of Scrapdelight. Here's a picture of the rest of the stuff I've been looking for.
Ik heb nog meer stansen en stempels die ik kan gebruiken maar die moet ik nog even opzoeken.
I have more punches and stamps that I can use but I'll have to look up for them
Ik heb er erg veel zin en en ik hou jullie via dit blog op de hoogte.
I am very excited and I will keep you informed by this blog.
Fijn weekend verder,
Have a nice weekend, what is left of it.
Marianne