Waarschijnlijk kennen jullie
Spellbinders
nog van de geweldige stansen in allerlei basic vormen. Dit plaatje komt denk ik iedereen wel bekend voor.
You probably know Spellbinders of the great dies in all kinds of basic forms. I think this picture is familiar for everyone.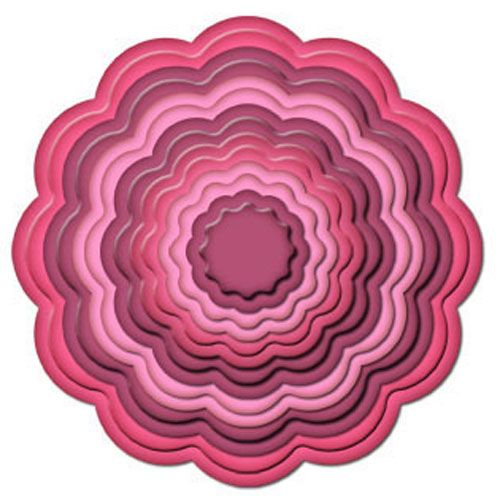 In de loop der jaren kwam Spellbinders met stansen in alle vormen die je maar kunt bedenken. En dit jaar komen ze weer met heel veel nieuwe producten. Ik denk dat ik zelf deze stansen niet zal kopen omdat ik nu de Silhouette heb. Voor iedereen die geen elektrisch snij-apparaat heeft zijn deze stansen een uitkomst. Ik heb de leukste vormen voor jullie hieronder verzameld.
Over the years Spellbinders produced dies in all the shapes you can imagine. And this year they are back with lots of new products. I think that I will not buy it because I have the Silhouette now. For anyone who does not have an electric cutting machine these punches are a godsend. I have collected the best ones for you below.
Onderstaande is geen stans maar een stempel. Ontzettend geschikt voor Mixed Media Canvassen, Jounaling of Scrapbook LO's.
The following is not a punch but a stamp. Extremely suitable for Mixed Media Canvases, or Jounaling or Scrapbook LOs.
Een van de Design Team leden,
Tammy Tutterow
, heeft een geweldige label gemaakt met de nieuwe producten. Op haar blog vind je ook het voorbeeld met een
tutorial
.
One of the Design Team members, Tammy Tutterow, has made a great tag with the new products. On her blog you will also find an example with a tutorial.
Zo, dit was de eerste sneak peek en ik hoop dat er nog heel veel gaan volgen.
So, this was the first sneak peek and I hope that there will be many more to follow.
Fijne dag verder,
Have a nice day,
Marianne