Hoeraaaaaaaaaaaa! Ik heb een Award gekregen voor mijn blog!! Dank je wel Anita!! Wat leuk!! Ik wist eerst niet wat ik er mee aan moest maar na een beetje navragen bij anderen, hier is ie dan!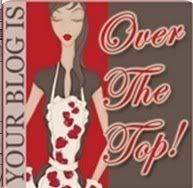 1: Where is your cell phone? In mijn tas, uit
2: Your hair? Nu is het aubergine, toevallig net naar de kapper geweest
3: Your Mother? Corrie
4: Your Father? Ruud
5: Your favorite food? Spruitjes
6: Your dream last night? Ik heb volgens mij niet gedroomd
7: Your favorite drink? Kersenbrandewijn
8: Your dream? Heb ik eigenlijk niet, het gaat vreselijk goed zo
9: What room are you in? Mijn scrapbookkamer, erg rommelig
10:Your hobby? Veel creatieve dingen
11:Your fear? Ik ben nergens bang voor
12:Where do you want to be in 6 years? Bij John en ik hoop heel gezond
13:Where were you last night? Thuis
14:Something that you aren't? Slank
15:Muffins? Doe maar niet
16:Whishlist item? Te veel om op te noemen
17:Where did you grow up? Alphen aan den Rijn
18:Last thing you did? Een film kijken op tv
19:What are you wearing? M'n hangpak
20:Your TV? Lekker groot
21:Your pets? Een hele lieve poes genaamd Tijgertje
22:Best friend? Mijn man, John
23:Your life? Veel te druk, te weinig tijd
24:Your mood? Ik probeer altijd vrolijk te zijn
25:Missing someone? Ja, mijn vader en moeder en mijn zusje
26:Vehicle? M'n Twingotje
27:Something you are not wearing? Bikini
28:Your favorite store? Oil and Vinigar, het ruikt het zo lekker
29:Your favorite color? Als het maar een heldere frisse kleur is
30:When was the last time you laughed? Ik lach elke dag
31:Last time you cried? Dat is al weer een tijdje geleden
32:Your best friend? Nogmaals mijn man John
33:One place that I go to over and over? Maastricht
34:Facebook? Ja
35:Favorite place to eat? Dat is nu Dolce Vita
En dan moet ik 5 personen uitzoeken waarvan ik vind dat ze de award verdienen.
Astrid
, en dan meer om haar te motiveren wat meer aan haar blog te doen!!
Lisza
, ze maakt prachtige kaarten én is een prachtig mens.
Angelique
, ze kan ontzettend mooi stempels inkleuren.
Ans
, haar werk is prachtig.
Francien,
omdat zij creatief is op een heel breed gebied.
Nou, allemaal veel plezier er mee.
Marianne