Nu we, al snel, de 5000 bezoekers naderen heb ik een pakketje samengesteld met wat spulletjes voor het maken van kaarten. Ben jij de 5000ste bezoeker?? Dat kun je zien door helemaal naar beneden te scrollen, naar de bezoekersteller. Maak dan een print screen, plak deze in een mail aan
mdeleuw@hetnet.nl
. Je krijgt dan van mij onderstaand pakketje opgestuurd.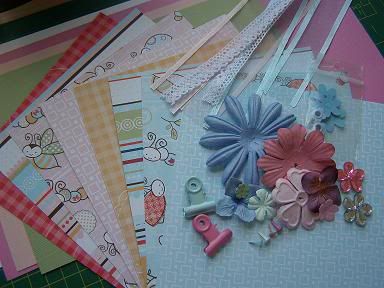 Het pakketje bestaat uit papier van Little Yellow Bicycle, bloemen, lint, brads, enz.
Are you my 5000th visitor? Make a print screen of the visitorscounter and mail this to: mdeleuw@hetnet.nl I'll send you this package so you can make some cards.
Ik hoop dat het begrijpelijk Engels is.
Marianne