Vandaag had ik een workshop bij Revlie Schuit. Ik had al op haar blog gezien dat ze ontzettend leuke dingen maakt. Al haar werkstukken had ze opgesteld in de workshopruimte. Echt leuk om ze eens in het echt te zien!!
Today I had a workshop at Revlie Schuit. I had seen on het blog that she makes beautiful things. Great to see them for real!!
Het zijn stuk voor stuk prachtige projectjes.
They are beautiful little projects.
Revlie begon met uitleggen wat er allemaal in de workshopkit zat. Papier, gel medium, knoopjes, gehaakt hartje, stempel en nog veel meer!!
Revlie began to explain about the workshopkit: Paper, gel medium, buttons, crocheted heart, stamp and much more!!
Mijn excuus voor de bewogen foto. Het ging allemaal zo snel.
My excuse for the bad picture. It all happined so fast.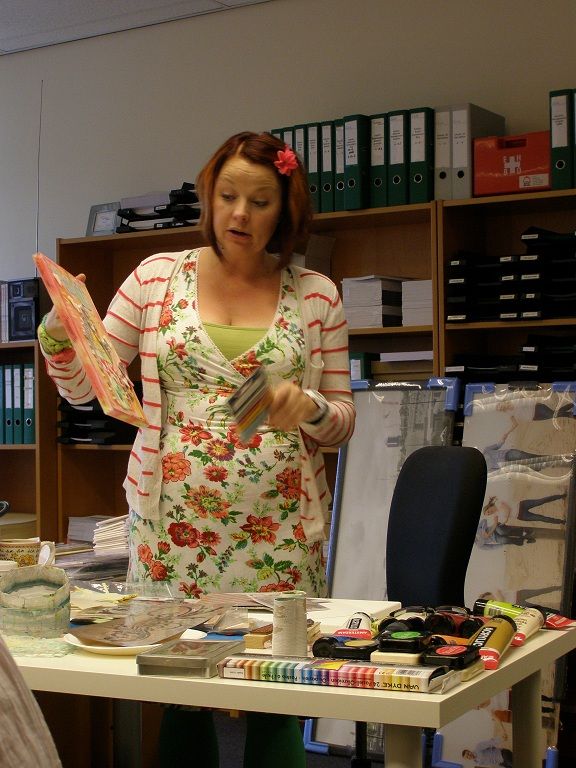 Ik mocht foto's maken als ik maar goed keek welke foto's ik op het blog ging plaatsen. Dat kan ik me voorstellen. Ik geloof dat dit geen foto's zijn om je te generen.
I was allowed to make photo's as long as I was critical about them. I can imagine. I don't think these are photo's to be ashemed about.
We begonnen met het plakken van achtergrondpapier.
We started with the paste of background paper.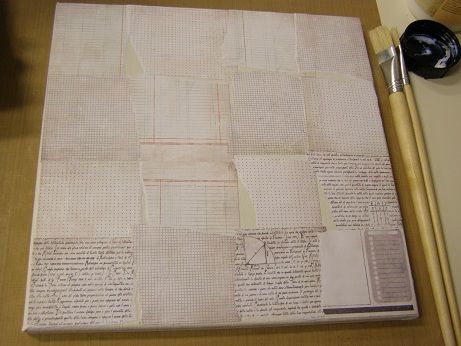 En dan moet ik wel een beetje lachen hoor, om mezelf. Zit ik heel stoer te scheuren, blijkt het toch nog allemaal heeeeeeeeeeeel netjes opgeplakt te zijn als ik klaar ben. Ach ja, heb ik iets om aan te werken.
I must make fun of myself. I started to tear the papers but ended veeeeeeeeery neatly when I was done. O yes, I have something to work on.
Daarna gingen we aan de slag met een mask en Glimmermist van Tattered Angels. Heerlijk spul in prachtige kleuren.
Then we went to work with masks and Tatterd Angels Glimmermist. Love that stuff in gorgeous colors.
Jammer genoeg zie je bij het eindresultaat niets meer van de mask maar dat geeft niet. Daar moet ik dus in het vervolg rekening mee houden.
It's a pitty at the end you can't see the mask anymore. I must think about that the next time.
Toen dat droog was, met de heattool natuurlijk, gingen we verder met de achtergrond. Met acrylverf, inkt, masks (zelf gemaakt!!) en stempels gingen we aan de slag.
When that was dry, with the heattool of course, we went on with the background. With acrylics, inks, masks (homemade of course!!) and stamps we went to work.
Revlie liet nog even zien wat er allemaal mogelijk was.
Revlie showed all options.
Over het eindresultaat ben ik heel tevreden. Het probleem van de Glimmermist die mengt met de decoupagelijn is jammer genoeg niets te doen. Daar moet ik "gewoon" iets anders op verzinnen.
I'm very satisfied about the result. There's nothing to do about my problem with the Glimmermist. I'm affraid I have to live with it.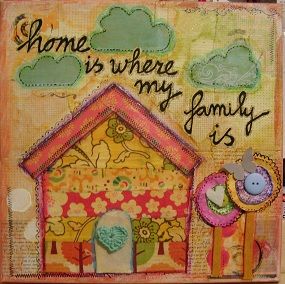 Het huisje is grotendeels gemaakt van stof, ook wel eens leuk om te proberen. De deur is van vilt en de stelen van de bloemen zijn van lint. De rest is van designpapier gemaakt.
Hieronder nog wat detailfoto's.
The cottage is mostly made of fabric, fun to try ones. The door is made of felt and the flowers are made of ribbon. The other things are made from designpaper.
Below are some detailed pictures.
Revlie, ik heb een ontzettend leuke middag gehad en ook veel geleerd!!
Revlie, thank you so much for the great afternoon and the things I've learned!!
Marianne