Voor de tweede challenge van
Get Sketchy
heb ik ook een kaart gemaakt. Omdat ik ook bezig ben met het maken van voorbeeldkaarten voor mijn demo van donderdag 17 september bij
Hobby World Hazerswoude
en voor de winkel zelf, heb ik deze kaart gemaakt van spullen die bij Hobby World te koop zijn.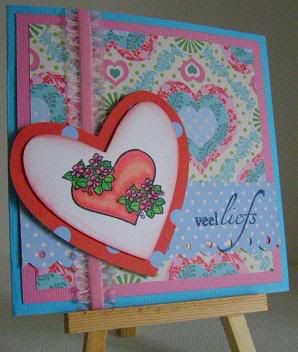 Het papier vond ik meteen helemaal leuk!! Echt mijn ding! De stempel is van CreaMotion en ik heb hem ingekleurd met Copic Markers. Best nog wel moeilijk hoor. Ik ben dan ook benieuwd of ik dingen bijleer of goede tips krijg op de workshop die ik in september ga volgen.
Dus toch een glimp van mijn voorbeeldkaarten.
groetjes,
Marianne