Een oud-collegaatje van mij heeft
een blog
waarop ze allerlei zelfgemaakte spulletjes van stof laat zien. Ze maakt echt hele leuke dingen!!
Nu had ze een aantal knisperdoekjes laten zien en dat leek me wel leuk voor Milo. Ik mocht zelf de kleuren uitkiezen en of zijn naam er op moest of niet. Natuurlijk wilde ik zijn naam op het doekje!!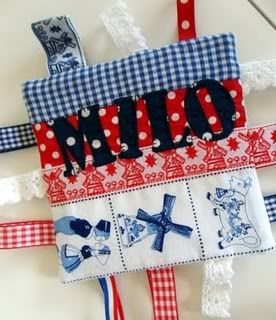 Vanwege het zeer Hollandse geboortekaartje heb ik gekozen voor Hollandse kleuren. Hij is echt zo ontzettend leuk geworden!!
Wil je ook zo'n knisperdoekje?? Dat kan! Neem contact op met
Silvana
en zij maakt precies het doekje dat je wilt hebben. Heel leuk om cadeau te geven maar ook natuurlijk voor je eigen baby. Voor het knisperdoekje met naam betaalde ik Silvana 15 euro.
Milo is nog wat te klein maar ik hoop dat hij het doekje ook leuk gaat vinden. Dat zal vast wel.
Fijn weekend allemaal, Marianne